The Album
This album features Dave Siebels on Hammond B3 accompanied by Gordon Goodwin's Big Phat Band, the biggest selling big band in the world. It's Jazz, it's Funk, it's fusion, it's Latin.
The album has been released to radio and to the internet (iTunes, Amazon etc.) You can get your copy here.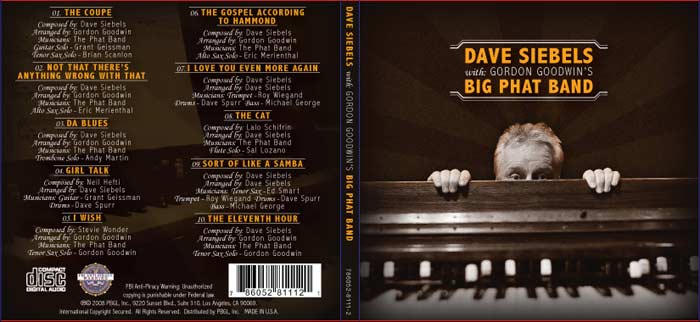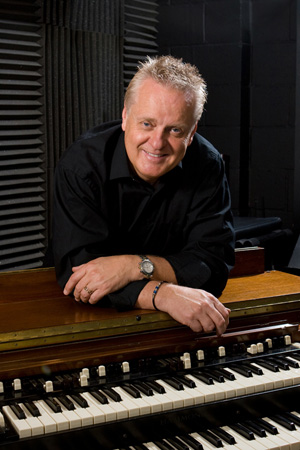 Credits
Produced by Dave Siebels and Gordon Goodwin.
Executive Producer: Pat Boone
Contractor: Dan Savant
Music Coordination: Savant Productions
Conductor: Gordon Goodwin
Dave Siebels Hammond B3 Organ
The Phat Band:
Piano: Gordon Goodwin
Bass: Rick Shaw
Guitar: Grant Geissman
Drums: Bernie Dresel
Percussion: Brad Dutz
Trumpets: Wayne Bergeron, Dan Fornero, Pete De Siena, Dan Savant
Trombones: Andy Martin, Alex Iles, Charlie Morillas, Craig Ware (bass bone)
Alto Saxes: Eric Marienthal, Sal Lozano
Tenor Saxes: Brian Scanlon, Jeff Driskill
Bari Sax: Jay Mason
Reviews
Media Alert: Dave Siebels Gordon Goodwin's Big Phat Band Street Date April 2009
---
Dave Siebels, with Gordon Goodwin – BIG PHAT BAND: I've no doubt my pal Charlie Saibel (pretty close to Dave's name, wondering if they're related) will just LOVE this fantastic B3 Hammond jazz excursion. When they called it a "Phat" band, they weren't joking… that's the thing that's most impressive about the CD… it's so thick & rich you'll have a hard time prying your ears away from their sound. Dave's B3 is a big part of that, but the excellent recording brings out each instrument (too many to itemize here) in a B-I-G way! "The Gospel According To Hammond" (track 6) is one of my favorite pieces, & though it puts the Hammond out in front, the horns make me think of grand church halls rockin' th' souls therein to oblivion! It's the opening track, "The Coupe", that captures my recommendation for favorite, though… this is one of the rare times when a Hammond B3 fronting a big-band ensemble really works for me… Gordon's band is one of the smokin'est assemblages you will ever here, & if your spirits aren't lifted after listening to "Big Phat Band", yer' a zombie (or a NeoCon) already! This is lip-smackin' jazz that requires a shirt well-stained with rib sauce & corn drippin's… I rate them MOST HIGHLY RECOMMENDED also give them the "PICK" of this issue for "best Hammond B3 jazz band"! Excellent jazz, excellent talent & excellent spirit! Get more information at www.bigphatb3.com (& be sure to tell them Zzaj sent you to get your advance copy – the CD will be "officially" released on 12 May, 2009). Rotcod Zzaj
Dick Metcalf, aka Rotcod Zzaj
Lacey, WA 98513
Email: zzajunique@hotmail.com
Zine site: http://zzaj.freehostia.com/
---
CD Review: http://www.midwestrecord.com/
This guy is one of the new generation of cats that labors in the Hollywood vineyards, much like the like of the jazz greats of a generation or more ago, but knows how to deliver the goods once he's off their clock and on his own clock. You have to give this guy points simply because he was the cat behind the Pat Boone metal album. Other than that, he has the chops, knows how to front a big band top heavy with stone cold killer pros and can make his B3 dance. Very much a groovy release that hip cats and kitties will totally flip for, this is the hot party and it's on. With mostly originals that draw you in right off the bat, it's probably time for Siebels to stop being such a well kept secret. Hot stuff.
Volume 32/Number 121
March 1, 2009
MIDWEST RECORD
Lake Zurich, IL., 60047
CHRIS SPECTOR, Editor and Publisher
©2009 Midwest Record